...she's Beautiful

This is a blog with one simple purpose: to share my love of make-up with the world. Anyone who knows me, knows that I have a bit of a ridiculous obsession with cosmetics. Why not share my looks with everyone? I'll admit, I am not a professional or anything, but the most important part of make-up, to me anyway, is to have fun with it. So I shall do just that!
...Beauty Products

Urban Decay
Kat Von D
Eyeko
Too Faced
MAC
Sugar
LimeCrime
Hard Candy

...Other beauties
Got a beauty blog? Want to link? Send me a message!


...EXHIBITIONS
...BEAUTITALK
...Lost in beauty
Use code "E7311" when you checkout at Eyeko Beauty checkout in the comments box to get a FREE GIFT courtesy of Toxic Charm. Feel free to mention my blog in your checkout comments too!
...Credits
layout design, coding, photo-editing,
by ice angel
Wednesday, December 16, 2009
This week's post features some of the lovely Candlelight Translucent Setting Powder by Too Faced Cosmetics and some of Sephora's awesome Make-up Forever False Lashes.
Both of these great products were found at SEPHORA aka the most awesome store in the world for make-up junkies! :)
So let's begin, shall we?
First up is the powder. This caught my eye as I was walking by the Too Faced display. I believe it's one of their new products for the winter, but I could be wrong. Here's a picture of the box: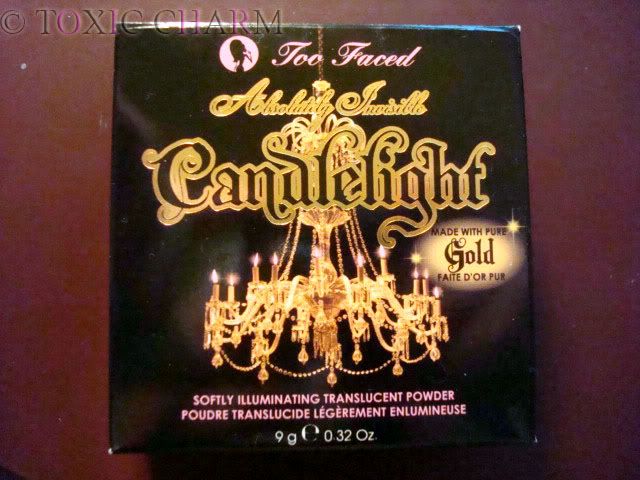 SUPER cute packaging. Gotta love Too Face. Part of their product appeal is the packaging. I hate to say it, but it really sells the product. The packaging is what caught my eye. ;)
Then, the super cute compact (not pictured closed) opens up to reveal a cute mirror: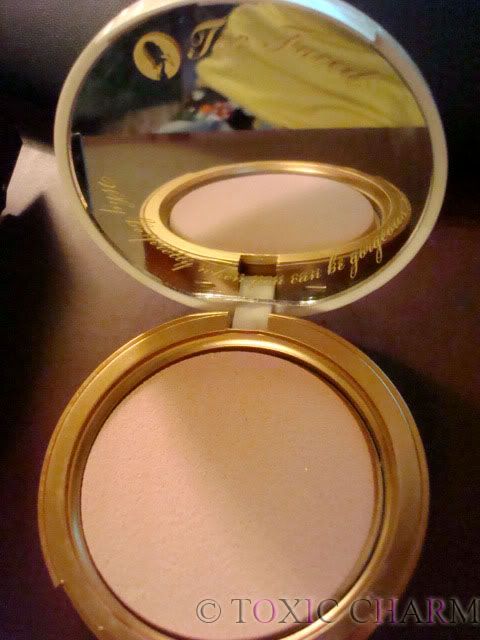 Too Faced! :D
It claims to be made with real gold, haha. I wonder if that's true? That's what the package says, at least...but you never know! I have heard that they put real gold on cakes sometimes, so this could actually be true, but I'm not sure. It *is* listed as one of the ingredients on the back. It must be really cheap gold though. This powder cost me $25 + tax. So there you have it. Kind of expensive for a setting powder, but it has *gasp* real gold in it! I actually really like the glow it gives! :3
Some of the powder on the blotter pad:
Powder swatch on my skin...see the sparkles? Now you too can sparkle like Eddie C. Hahaha. Twilight reference...blah! It really does make your skin sparkle, though! But ever so slightly! Perfect for a night out with some friends or even for a date! It has a faint yellow tint to it:
I'd say if you want a cheap setting powder, don't buy this. $25 is a lot, however, the Bare Essentials Mineral Veils cost about $19 each and you don't get a brush with those either, so I dunno...it depends on what you're willing to splurge on. This has a nice sparkle to it and you don't have to worry about spilling powder everywhere, which is one of the reasons why I am starting to abandon my Bare Essentials stuff. It's just not convenient, plain and simple! =(
Here's a link to Too Faced's product page for the powder. You can also read reviews for it on sephora.com:
CLICK ME!
ANYWAY!
And now for some fake lashes. I would like to attempt a pin up girl/retro look eventually with big, huge, black eyelashes and red lipstick. But I really really suck at putting on false lashes. So this was my only semi-decent, post-worthy attempt:
Here's a photo of the box...nothing too fancy! Just standard make-up forever black and white packaging:
Here is a photo combining both products: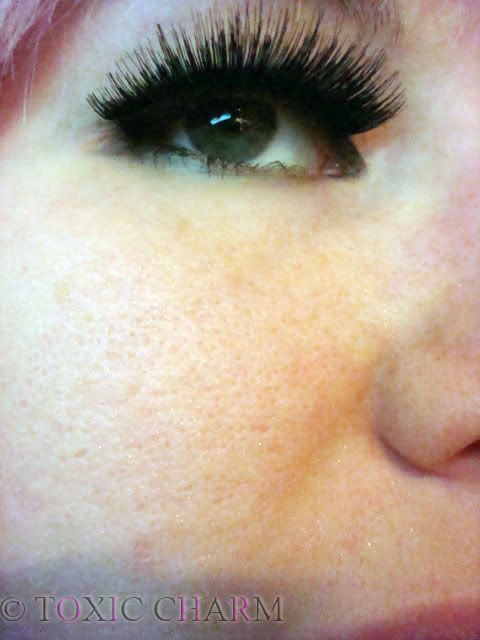 Whew. Hope you enjoyed my post. Keep your eyes peeled for future updates. :]
Labels: make-up forever, sephora, too faced
the beauty exposed ;